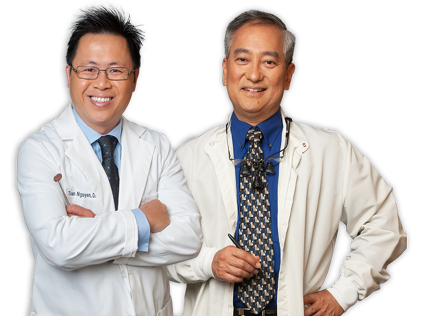 Beach Family & Cosmetic Dentistry
Huntington Beach, CA Dental Office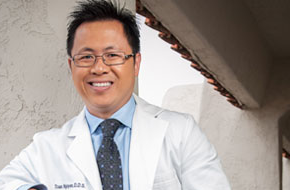 Toan Nguyen, DDS
Dr. Toan Nguyen has been providing dental care for nearly two decades. His masterful dentistry has restored functionality and dental health for over 12,000 patients since he began his practice. He's known for his skill and light touch as well as communication. Dr. Nguyen believes in giving patients the dentistry that they need without pushing treatment that is unnecessary. Dr. Nguyen wants to bring the best in care to his patients. He chooses to enhance and expand his knowledge with continued advanced study. He takes hundreds of hours in full-mouth reconstructions and advanced endodontic procedures every year.
Notable Information 
1994 – 1998 Loma Linda University School of Dentistry

Dean's List, Phi Beta Kappa Honor Society, Academic Excellence in Research Award Graduated 1998 (D.D.S.)California Board Certified  in 1998

1998 -2000 Associate for Dr. Larry Robinson, Long Beach and Michael H. Lee, Rowland Heights, CA

2000 – 2011 Private Practice, Dr. Toan Nguyen, DDS – Cerritos, CA

2009 – Present: Owner of Beach Family & Cosmetic Dentistry – 17732 Beach Blvd  Suite A., Huntington Beach, CA 92647

2011 – Present: Owner of San Dimas Family Dentistry – 213 N. San Dimas Ave, San Dimas,   CA 91773
Goals
Provide crafted dentistry

Make pricing reasonable

Create dentistry that lasts

Restore health
Outside Interests 
Private Pilot

Member of Aces High Flying Club

Member of Squadron III, Southern California Association of Canard Pilots

Member of the Southern California Ducati Club

Fast Track Riders member

Member of the Orange County Chapter of the Flying Samaritans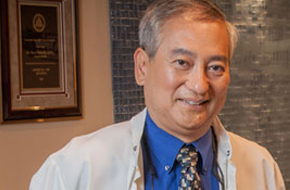 Daryl Yokochi, DDS
Dr. Yokochi was born and raised in Hawaii. He attended Whittier College for his Bachelors in Biochemistry, then Northwestern University for his Doctor of Dental Surgery degree. Dr. Yokochi has fans and friends who started out as patients. He clearly loves what he does. He  grew up watching both his uncle and father, both dentists, enjoy their work and build lasting relationships throughout the community in Hawaii.
To hear patient's talk, Dr. Yokochi has done the same in Huntington Beach. He has grown his reputation throughout his nearly 30 years by listening to the patient, putting their needs first and creating longevity and function in people's smiles. Besides his restorative work, he's a Preferred Provider of Invisalign and a great sounding board for prioritizing goals in terms of necessity and budgets.
Dr. Yokochi has advanced knowledge in restorative dentistry. From the most severe cases to people with dental fears, Dr. Yokochi uses a light touch and gentle approach with highly accurate and patient-sensitive technologies and tools to both identify and resolve problems in a timely and efficient manner.
He is the father of 2 children, Archer age 16 who has Autism, and Aysia age 15. He is active in Autism Today & Autism Support. When not practicing dentistry, Dr. Yokochi likes to quilt and throw pottery.
"I don't have to make a lot of money. I just want to do good work for my patients and make them happy. My patients become friends because I treat them like I would my sister, my mother and my children. That's more important to me than the business side."
– Daryl Yokochi, DDS
Dental Affiliations: 
• American Dental Association
• California Dental Association
• Orange County Dental Society
• Invisalign Preferred Provider
• Biolase Laser Certification
Ruby Olivo
Dental Assistant
Ruby has been a dental assistant for two years. The most rewarding part of her job is working with the patients, getting to know them, helping them feel comfortable and not fearful of dentistry. Most importantly she enjoys seeing the patients smile after each procedure.
When she not in the office, she enjoys spending quality time with her son doing outdoors activities, reading, as well as arts and crafts.
Linda Ly
Front Desk Administrator
Linda has worked in the dental and medical field since 2006. She really enjoys what she does because she really likes helping others. She especially loves the dental field because she believes that a person's smile is the most important asset that they possess. "A smile can uplift one's own mood, the mood of others. It leads to laughter, and boost one's confidence level." She has been employed with Beach Family Dentistry since 2009, but took an extended leave of absence to raise her newborn son. Now that her son is a little older, she is ready to go back to work. When she is not at the office, she enjoys spending time with her husband, child, and extended family. She also enjoys crafting, cooking, DIY projects, as well as party planning.
Susan Bitting
Front Desk Administrator
Susan's dental career started in 2008. She worked in a pediatric dental office for six years prior to joining our team. She has been working at Beach Family and Cosmetic Dentistry for the past two years. She takes care of the patient's financial billing, treatment planning, collections and other office arrangements. She enjoys working with Dr. Daryl Yokochi & Dr. Toan Nguyen. She believes that the staff is friendly, with a great sense of humor to work with. She takes pride in knowing that the entire office staff goes above and beyond to take great care of the patients. "We love our patients and they love us too." She has lived in Huntington Beach for over 40 years. She has a teenage daughter that is the love of her life, and a dog named "Jack".
Laura Gerber
Registered Dental Hygienist
Laura is a Registered Dental Hygienist. She graduated from the University of Southern Indiana. She grew up and lived in Indiana until after her graduation from hygiene then moved to Southern CA.
She met her husband here in CA and they now have two children who are now grown. She and her husband spend lots of time traveling to see her daughter play softball, and also in spare time walk the beach, collect sea glass and shells.
Laura has worked for the office for over 20 years. She started with the origional owners, the Rizzo brothers, worked then with Dr Daryl Yokochi, and now with the staff of Beach Family & Cosmetic Dental.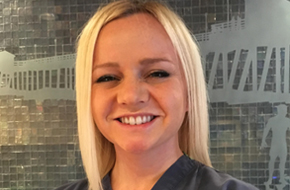 Jessica Parker
Registered Dental Hygienist
Jessica has been working as a hygienist since the beginning of 2013. She earned her first Bachelor's of Science degree at Brigham Young University; and then went on the receive her second at the Utah College of Dental Hygiene. Among other things she enjoys eating, reading, running, skiing, snowboarding, kayaking, hiking, wakeboarding, biking, canyoneering, scuba diving, swimming, and exploring new places. She especially loves to do these things while traveling and has a tendency to leave most weekends to do so. Dental hygiene is the perfect Job for Jessica. She loves getting to know her patients, working in an easy going family friendly environment, and helping people have fresh clean mouths. She truly loves what she does!

Timely Treatment
Our Doctors understand that your time is important. We offer flexiable hours and we work hard to provide the best patient experience possible.

State of the Art Office
We utlize the most advanced equipment and cutting edge medical techniques. We love cosmetic dentistry, you will too.

Schedule Online
Our website is interactive and allows you to book an appointment online. We try and make it easy for our patients to contact us.

Clear Communication
Open communication and honest expectations are important to our practice. We inform you every step of the way. This is very important for pediatric dentistry.