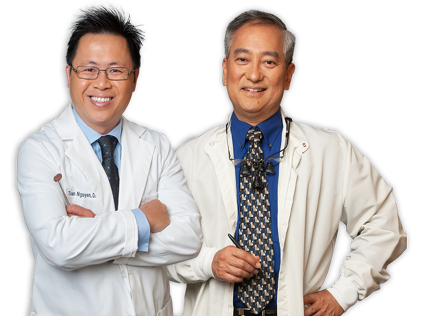 Beach Family & Cosmetic Dentistry
Huntington Beach, CA Dental Office
Family dentistry and more…
Doctors Yokochi and Nguyen treat patients of all ages. Our goals are to teach young patients how to brush their teeth and that the dentist office isn't a scary place. Your entire family will benefit from regular dental hygiene checkups and care.
The health of you and your family's teeth is important to us. Schedule a visit with our wonderful staff today.
• General Dentistry – cleanings, check-ups
• Cosmetic Dentistry – Invisalign, whitening procedures
• Restorative Dentistry – dental implants, crowns and bridges
Our dentists are backed by thousands of hours of combined experience. We often see 3 and 4 generations of families. Know that your dental health is in good hands.
We understand that you're busy and getting the whole family to the dentist can be tricky. We offer great appointment times and will work with you to meet your needs.
CALL US TODAY (714) 842-0601